The Jerry Gibson Memorial Youth Summer Theater
For Immediate Release to paper on July 22
Suggested Headline(s): (1) COVID-19 Will Not Stop the Jerry Gibson Theater Players!
(2) Live, Socially-Distanced Performance by the Jerry Gibson Players This Weekend
(3) Jerry Gibson Summer Theater Presents a Socially-Distanced, Live Cabaret
The Jerry Gibson Memorial Youth Summer Theater, a treasured institution in Florham Park, has presented a musical featuring local teen actors aged 13-19 every summer for the last 40 years. Due to COVID-19, Jerry Gibson Theater was unable to produce a full-stage production this year. However, the pandemic has not stopped the Gibson Theater players from performing this summer!
Over the last two months, the Gibson Theater actors have been rehearsing via Zoom to prepare for a virtual cabaret. This cabaret, entitled "In Celebration of Jerry Gibson Theaterís 40th Anniversary: A (Virtual) Cabaret," will feature songs from Gibson Theaterís past productions, to celebrate their momentous anniversary of 40 years in Florham Park. After a rigorous casting process, actors have been assigned songs from previous Gibson Theater productions, and have been rehearsing online daily to prepare for their final performance.
Due to the state of the pandemic, the group was prepared to present this cabaret as a virtual production via livestream or recorded performance. However, due to Governor Murphyís recent allowance of up to five-hundred people at outdoor gatherings, Gibson Summer Theater has decided to perform their cabaret live and in-person!
On Friday, July 24th and Saturday, July 25th at 7:00pm, the players will perform their cabaret celebrating 40 years of Jerry Gibson Summer Theater at the Florham Park Gazebo, and invites members of the community to watch at no admission fee. Actors will perform a collection of solos, duets, and trios from previous productions.
Audience members will bring their own seating (such as lawn chairs, picnic blankets, etc.), and obey social-distancing protocols. The wearing of Face Masks will be required. The cast members will also be wearing masks and be at least six feet apart during the performance.
"Itís absolutely amazing watching how resilient these teens are." Katie Gordon of Florham Park, the director of the production, says: "They have been working hard every day, and have grown so much through their acting, singing, and dancing, despite any limitations from having online rehearsals. I am so proud of each and every one of them, and I canít wait for the town to see all the hard work these students have put into this show!"
For more information regarding the performance and a cast list, please visit their website: www.collaborations.com/FPP. One can also call (973) 377-9078 or email the director, Katie Gordon, at ktg259@nyu.edu.
# # #
Director Katie Gordon holding a virtual rehearsal with the cast via Zoom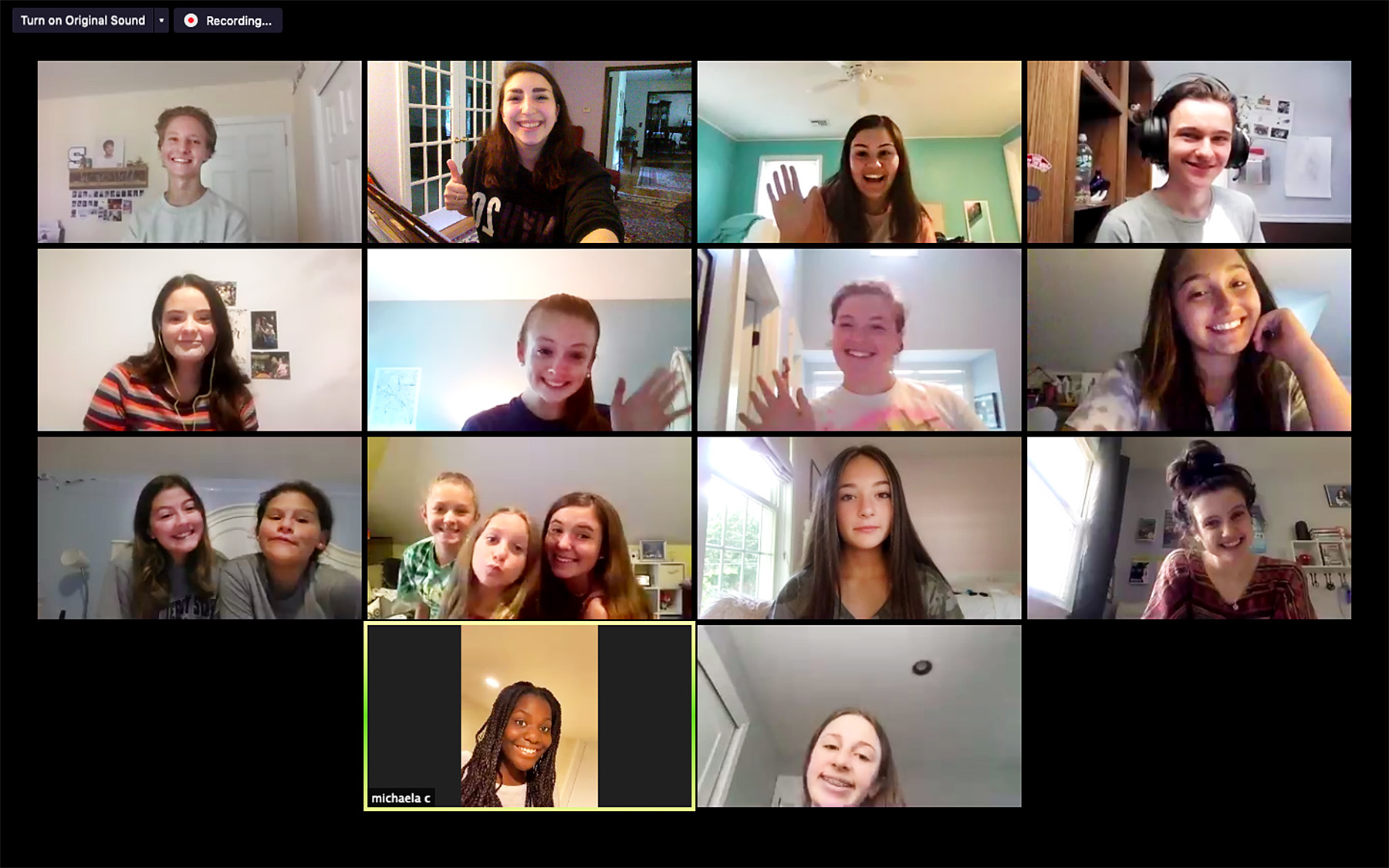 A screen shot of the actors during the virtual rehearsals